Independent advisers
from across the world
help you study abroad!

Italy
Albina
Despite many bureaucratic obstacles, I entered and graduated with honors from the Roma Tre University and found an excellent job
United Kingdom
Irina
I received a Chevening Scholarship, a Master's Degree from University College London with Distinction and completed a six-month internship at the London office of an international company
With your adviser's support you can
Take a step towards studying abroad
an adviser will provide personalised recommendations based on your needs/request
Build a strategy for admission abroad
together with your adviser you can create a plan for admission abroad
Choose the suitable universities and programs
your adviser will help you make an informed decision if you're unsure about where to enroll
Fulfill entry requirements and prepare documents
your adviser will help you understand what you need for a successful admission
learn about studying, obtaining a visa, building a career, moving and living abroad
Find out first hand how studying abroad can reshape your future
Save time and energy working with an adviser. Juggling studying and exams while looking for opportunities abroad is no easy task. Your adviser will give you unique insights to help you succeed!
The best advisers with proven experience
We carefully check our advisers' documents and educational background: real experience is the only basis for quality consultation
We conduct an interview with advisers to check their professionalism and interpersonal communication skills
Only the best advisers who are ready to help and inspire make it onto our platform
We collect feedback from our customers and frequently update the information on the site. We only keep advisers with good reviews.
Why us?
StudyQA is a smart search platform for programs, universities and scholarships around the world and one of the largest medias for studying abroad.
Fixed price
we guarantee that the price will not increase after registration
Money back guarantee
if something goes wrong with the adviser during the consultation, we will take care of the situation and refund your money
Confidentiality
your personal information and information about the services provided are not subject to disclosure
Save time and effort
- all advisers on the same platform
- ability to select advisers by filters
- convenient communication format and payment method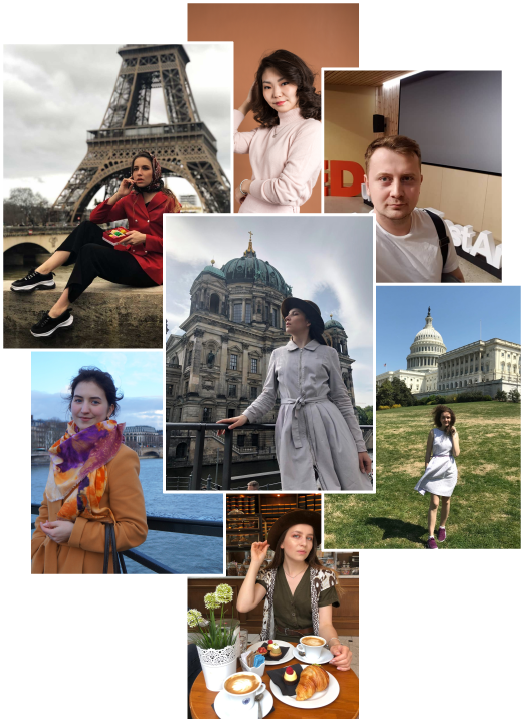 How does the platform work?
Choose the adviser that suits you using the search filters
Pay for the consultation in a secure and convenient way (any credit card in any currency)
Fill out the questionnaire and add your questions for the adviser there
Agree with your adviser on a convenient time and platform for communication (WhatsApp, Telegram, Zoom)
Get a consultation at a convenient time for you! = Take a step towards your dream!
Take a step towards your dream!
If you're having trouble choosing an adviser, fill in the short form and a platform manager will find the right adviser for you!
FAQ
How does the platform work?
Our platform allows you to choose the most suitable adviser who has experience in studying and working abroad, and get consultation on questions that interest you. Firstly, you choose an adviser, pay for the consultation and fill out a questionnaire with your questions. Then you contact the adviser to get consultation on a platform that is convenient for you and the adviser. It can be Skype, Whatsapp, Telegram, Zoom, Viber, or something else.
How much does the consultation cost?
The price of the consultation is indicated next to the adviser's profile. You can also sort by consultation cost to find a suitable adviser. There are three fixed consultation prices: 30$, 60$, 160$. The cost of the consultation depends on the adviser's consultation experience and the complexity of the consultation questions. All advisers on our website are current students or graduates of foreign universities who entered there on their own, know all the steps of admission and are competent in their field. By choosing consultants of the second price category ($60), you can be sure that they are the winners of prestigious scholarships, have great experience in consulting and can answer more complex questions. Consultants of the third price category ($160) have a proven background in consulting and have successfully helped other students enter their country(-ies) of expertise. They guarantee you admission when working with them further.
What if I don't like my adviser?
We make a strict selection of advisers, verify experience, diplomas of education, and collect customer feedback. If the adviser didn't get in touch with you or something went wrong during the consultation, we will take care of the situation and refund your money or offer you another adviser.
There is a lot of material about entering universities abroad, why do I need such a service?
Advisers who cooperate with us provide up-to-date information on studying abroad, and can assess individual chances of admission and receiving funding. They can also suggest how best to act in a particular situation and answer your personal questions.
Can I get consultation on several countries?
Some advisers have experience of studying and working in several countries. In this case, they will be able to consult on the specifics of life, work, admission and study in these countries.
Do you guarantee admission to an educational institution or a scholarship?
Advisers on our platform are winners of prestigious scholarships and grant programs, who have a lot of experience in studying and living abroad. They guarantee high-quality advice and assistance in preparing for admission. However, neither we, nor most of the advisers on our platform, are an agency for admission abroad, and we cannot guarantee you admission to scholarship programs or to top universities.