Communication Studies is an academic discipline that works with human communication. This discipline is tightly connected with such disciplines as so...
Communication Studies is an academic discipline that works with human communication. This discipline is tightly connected with such disciplines as social studies, psychology, conflictology, language studies, semiotics, logics, linguistics and others. Communication Studies unites humanities and social studies, with emphasis on media: journalism, television, etc. Study programs in Communication Studies prepare specialists in media-related areas and public relations.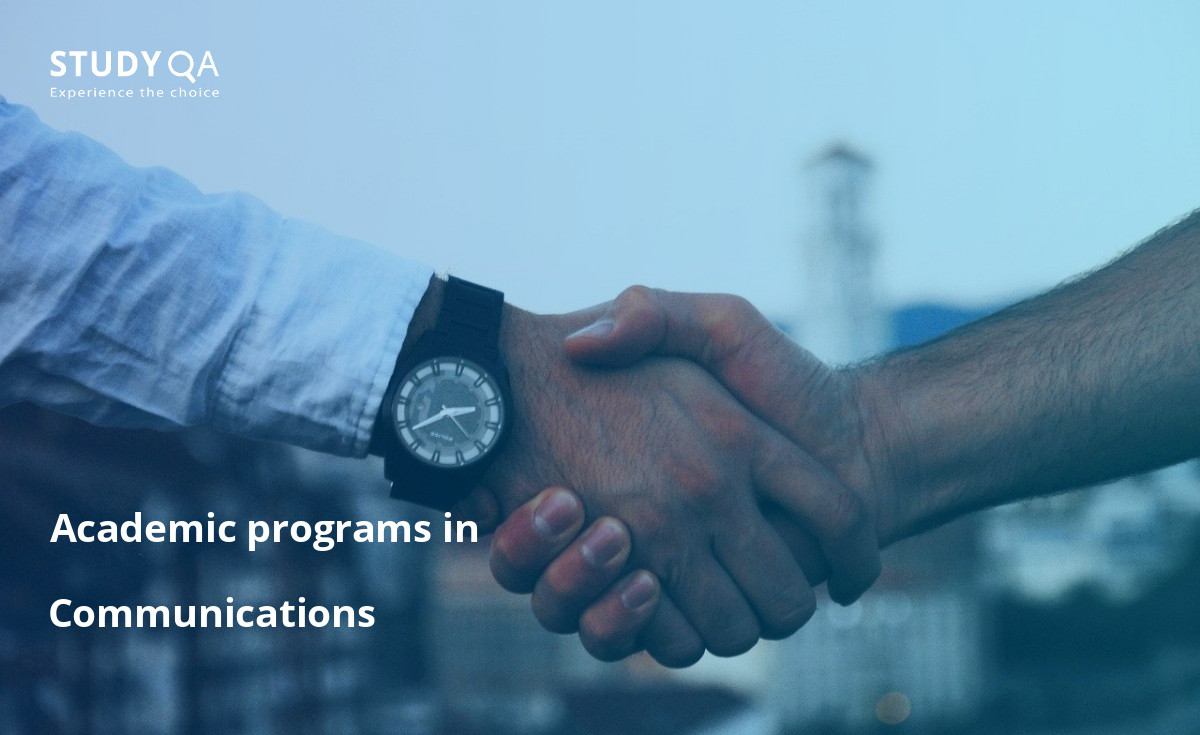 Media and communication
The structure of study programs in Communication Studies depends of the chosen university. Usually it is connected with different media sectors. For example, if you wish to study journalism in context of communication, you can choose the study program from South Dakota State University - Communication Studies and Journalism (MA). If you are interested in new media in Europe, you can apply for Vrije Universiteit Brussel for the study program "The Master of Communication Studies: New Media and Society in Europe".
How to apply
There is no specific requirements for students who wish to apply for the undergraduate Communication Studies program. Applicants should demonstrate good grades from high school, and be interested in media and communication. Usually universities ask successful candidates to attend an interview with faculty staff.
As all courses will be read in English, language proficiency is mandatory. International applicants should submit the results of TOEFL or IELTS.
Visa requirements depend on the country you choose. Universities usually help successful candidates to get student visa.
Future career
Graduates holding a Bachelors or Masters degree in Communication Studies can start a career in journalism (especially international), copy-writing, marketing, public relations, advertising, television and film productions, and digital technology development. The main skill graduates will get is the communication skill, so graduates can start a career in any area where communications with people are required.
Best Universities
According to QS Top University rankings, the best universities teaching Communication Studies are concentrated in USA: University of Southern California, Stanford University, University of Wisconsin-Madison, University of California, Berkeley (UCB), University of Texas at Austin, University of California, Los Angeles (UCLA),University of Pennsylvania,Columbia University and others. Besides USA, excellent Communication Studies programs are hosted by University of Amsterdam, Netherlands, London School of Economics and Political Science (LSE), and Goldsmiths, University of London, UK.
These universities have excellent employment reputation: most of graduates have found a prospective job after graduating from Communication Studies program. Some of the universities also provide internships for current students, which also help them with employment.
Scholarships and other funding are always offered for excellent international and domestic students.
Show more
Hide
Levels Search
Countries Search
Languages Search
Study mode Search
Study type Search